We utilise the latest in Modern Fencing equipment to ensure Efficency and Quality of work.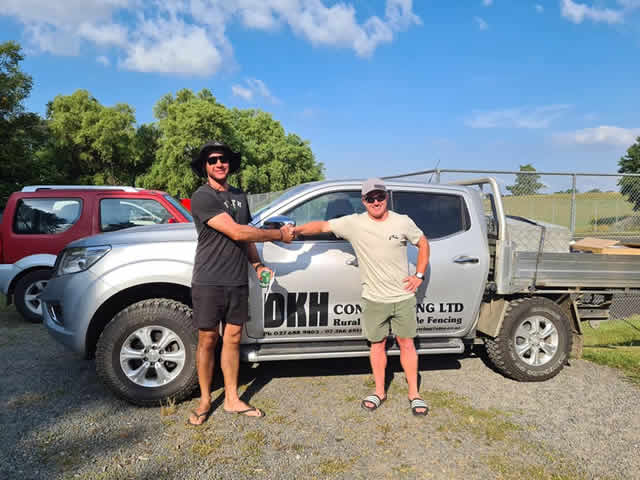 We Build with Pride and Passion!
We are a family owned and operated business, who have been working throughout the Bay of Plenty for the past 10 years. Previously we have been Share Milkers so we have an strong understanding of Stock Flow and Cattle movements.
We have been involved in Farm Conversions, Rural, and Lifestyle Development Projects, and Subdivisions. We have experience in Residential Fencing and Security fencing and are based in the Rotorua region.
We pride ourselves in the care and attention we pay to work and as a result our reputation speaks for itself. Securing your Stock and Little Ones is our Priority.
Numbers Speak For Themselves
We have used Dan and DKH on numerous occasions for our Lifestyle block. Their work is always to an extremely high standard and you get the impression they are working on their own property! They care and when we aren't 100% what will work they are extremely helpful.
"DKH Fencing completed a series of fencing tasks at the Tauriko Business Estate. We are extremely happy with the work they were able to produce, providing a professional and sturdy finish. Charlie, Dan and the crew were able to adapt to some challenging ground conditions to finish on time and for a great price. We will be seeking their services again in future stages of the development"
We had Dan do some deer fencing for us and swing a couple of new gates, to keep our rescue dogs safely within our property limits (and neighbour's animals safe on the other sides). The job was a bit unusual and required a bit of out-of-the-box thinking. Really happy with the results and happy to recommend an awesome fencer, and a decent and genuine person in Dan.
Need help with your Fencing?
With over 10+ years of experience, DKH Contracting has the knowledge, confidence and expertise
to help you plan and construct your Fencing in no time.